Rank no.136-Penn Station East Coast Subs-US
---
Top 250 Franchise by Entrepreneur-Rank no.136-Penn Station East Coast Subs-USA
Products & Services: Specialty sandwiches
Number of Locations: 261
Total Investment: $282.14K – 560.15K
Founded: 1985
Began Franchising: 1987
About Penn Station East Coast Subs
Jeff Osterfeld opened his first quick-service restaurant, Jeffrey's Delicatessen, in Dayton, Ohio, in 1983. A visit to the east coast inspired him to add Philly cheesesteaks to his menu. Then in 1985, he made cheesesteaks the star of the menu in his second restaurant, the first Penn Station, in Cincinnati. Franchising of the concept began two years later.
Franchise Units
| | | | | |
| --- | --- | --- | --- | --- |
| Year | U.S. | Canadian | International | Company Owned |
| 2013 | 260 | 0 | 0 | 1 |
| 2012 | 241 | 0 | 0 | 2 |
| 2011 | 224 | 0 | 0 | 2 |
| 2010 | 213 | 0 | 0 | 2 |
| 2009 | 205 | 0 | 0 | 2 |
Where Seeking Franchisees: Franchisor is seeking new franchise units in the following states:
Midwest, Northeast, South, Southeast.
Startup Costs, Ongoing Fees and Financing
Total Investment: $282,146 – $560,152
Franchise Fee: $25,000
Ongoing Royalty Fee: 4-8%
Term of Franchise Agreement: 5 years, renewable
Financial Requirements
Liquid Cash Available: $150,000 – $500,000
Operations
85% of all franchisees own more than one unit. Number of employees needed to run franchised unit: 15. Absentee ownership of franchise is allowed. (15% of current franchisees are owner/operators).
How This Franchise Supports Franchisees
Training: Available at headquarters: 3 weeks. At franchisee's location: 1 week.
Ongoing Support: Newsletter, Meetings, Grand opening, Internet, Field operations/evaluations, Lease Negotiation
Marketing Support: Ad slicks, National media, Regional advertising,
Franchise Ranking History
Franchise 500®:
#136 (2013), #148 (2012), #141 (2011), #183 (2010), #206 (2009),
History
Penn Station's origins can be traced back to Jeff Osterfeld's first venture in 1983 as owner/operator of "Jeffrey's Delicatessen" in the Dayton Mall in Dayton, Ohio. It was here that the roots of the "ownership mentality" began to form for the founder and Chief Executive Officer of Penn Station, Inc. Jeff saw first-hand the impact his presence in the store had on product quality, customer service and sales. On a trip to Philadelphia and other parts of the East Coast of the United States to research the East Coast version of the submarine sandwich, Jeff was particularly attracted by the popularity of the cheesesteak sandwich. This trip prompted an addition to the deli's menu of a variation of the Philadelphia cheesesteak sandwich he had sampled on the south side of Philly. This sandwich became an instant hit with customers.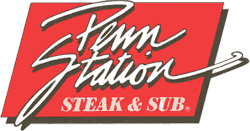 Jeff took his innovative ideas on quick service dining to downtown Cincinnati where he opened his first Penn Station® Restaurant in 1985. The original menu had four sandwiches and featured the grilled cheesesteak, fresh-cut french fries and hand-squeezed lemonade, with the order prepared directly in front of the customers using the freshest ingredients available. In 1988, Jeff's vision for an upscale, quick -service dining experience revolving around "fresh ingredients and display cooking" was formulated into a franchising concept. This began the evolution into what is now an extraordinarily successful concept that has grown to over 260 units throughout Cincinnati, Columbus, Dayton, Canton, Akron, Cleveland and Toledo, Ohio; Indianapolis, Evansville, Terre Haute, Lafayette, Bloomington, Anderson, Fort Wayne, Muncie, South Bend, Schererville and Richmond, Indiana; Lexington, Louisville, Richmond, Elizabethtown, Paducah, Shelbyville, Ashland and Frankfort, Kentucky; St. Louis, Missouri; Charlotte, Greensboro and Raleigh, North Carolina; Rock Hill, South Carolina; Greater Chicago, Springfield, Danville, Fairview Heights, Granite City and Champaign – Urbana, Illinois; Murfreesboro, Knoxville, Chattanooga and Nashville, TN; Charleston and Huntington, WV; Detroit, Lansing, Grand Rapids, and Kalamazoo, Michigan; Haymarket, Fairfax, Roanoke, and Richmond, Virginia; and Pittsburgh, Pennsylvania.
Our Product
Penn Station has developed a unique product line that demonstrates, in full customer view, the true quality of our products. Our menu now features an array of mouth watering Grilled East Coast Style submarine sandwiches, fresh-cut fries and hand-squeezed lemonade. All sandwiches are prepared fresh in full view of the customer using delicious hearth-baked bread, USDA steak and the finest meats, cheeses and vegetables. The potatoes are hand selected, fresh-cut and flash-fried in cholesterol-free peanut oil. The lemonade is made from scratch every day using hand-squeezed lemons.
Our restaurants are attractively designed with brightly-lit service lines and colorful interiors that create a radiant, clean appearance. Colorful artwork, background music, television for customer viewing and exposed ceilings create an atmosphere unlike typical quick-service restaurants.
Our owner/operators and employees are happy to serve you and ensure your dining experience meets our high standards for the quality that produces the finest grilled subs and fresh-cut fries around. Come visit a Penn Station® to see why "It's all about good taste".
"As someone born and raised in the Midwest, I tasted my first sub sandwich in FL. It was made in a little sub shop owned by a transplanted New Yorker and it was unlike any sandwich my family and I had ever tasted. Ever since then, I have been looking for a sub that would be like that very same sub and today I found it!!! I got a toasted Italian and it was phenomenal. My only regret is that the closest store is thirty miles away! Congratulations on such a great store and sandwich. I'm afraid jimmy john's, subway, the sub shop and pickleman's have lost my business from now on. I can't wait to take my vegetarian daughter to try the grilled veggie again, thanks for a great sandwich."
– Helen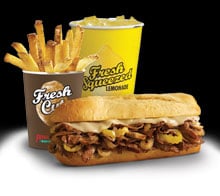 Recent Awards
For Contact by Mail or Phone:
Penn Station Headquarters
1226 US Highway 50
Milford, Ohio 45150
513-474-5957
Monday through Friday, 8:00 a.m. to 5:30 p.m. (EST).
Source : Penn Station East Coast Subs – Design by desudio