Why Bay Area spec office construction is booming – 1/100
---
Why Bay Area spec office construction is booming – 1/100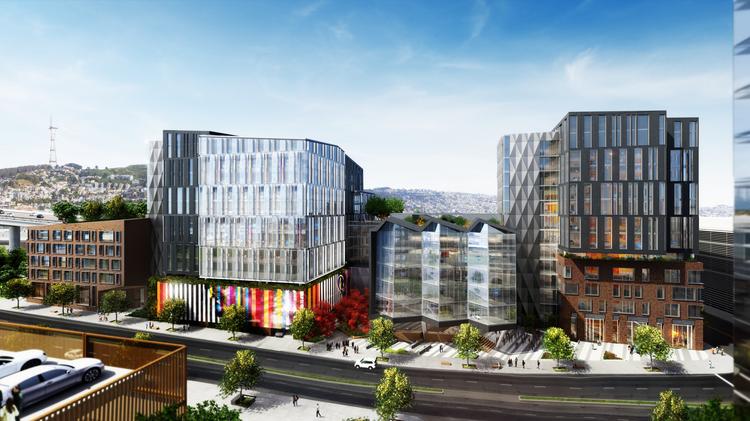 The Bay Area technology boom has made betting men out of many office developers and investors, who aren't expecting a bad hand anytime soon.
That's evident by the fact that speculative office development is accelerating, with 27 percent of the 15 million square feet under construction in San Francisco, the East Bay, the Peninsula and Silicon Valley going up without a single tenant pre-leased, according to data compiled by Cushman & Wakefield and CBRE.
Historically, that kind of leap of faith has made developers and lenders sweat. If the economy retrenches and tenant demand dries up, buildings can sit empty, drain capital and become cautionary tales of hubris.
But that fear doesn't reflect the reality of this point in the economic cycle, saidMike Sanford, Kilroy Realty Corp.'s executive vice president of Northern California.
Kilroy just finished an office building thatstarted on spec at 350 Mission, which leased to Salesforce; it just began construction on Mission Bay's The Exchange on 16th without a tenant; and it expects to start construction on newly acquired 100 Hooper near Showplace Square without pre-leasing.
Its Redwood City office project started construction on spec, then quicky grabbed Box Inc. as an anchor tenant.
"Supply and demand is our first criteria when we decide to build on spec," Sanford said. "There are 35 tenants that have 50,000 square feet or greater requirements. They're going to land in new development if they can't land in existing buildings."
That kind of demand from growing companies means towers can depend on them to snag space at some point during construction, especially in highly desirable office submarkets. In San Francisco's South Financial District, companies like WeWork and Trulia grabbed space as 535 Mission almost finished this year. In addition to growing demand, office rents are rising: there was a 16 percent year-over-year increase in Class A rents in the city, according to Savills Studley, a commercial real estate firm.
The decision to build speculatively is easier for a publicly traded real estate investment trust like Kilroy that doesn't need to rely on an outside investor or lender to take a gamble with equity or a construction loan. Most other developers need major buy-in from investors.
In San Francisco, developers with entitlements and office space allocation under Proposition M can rely on new competition from other office buildings remaining relatively scarce. "It constrains supply, which really helps you if you have an approved project," said Paul Paradis, senior managing director of developer Hines, which is building Salesforce Tower.
Hines, along with real estate investment trust Boston Properties, started to build the tower in the Transbay district about six months before its Salesforce lease was locked down. It still has about half the building to lease.
Would Hines make the same leap today? "Depends on how long it would take to build that building," Paradis said. "If you're late in the cycle, you might have an abundance of data to support good rents and demand, but you might not get your project in time before the cycle ends and you start to go down."
Not every office developer is firing up construction cranes for spec office projects, particularly those bitten by that same mistake when the financial crisis hit seven years ago. Speculative development was also roaring just before the financial crisis hit, with several development plans hitting the skids.
South San Francisco's high-profile Centennial Tower sat vacant for nearly four years before snagging tenants in 2012. It's not surprising that developer Jack Myers hasn't pulled the speculative trigger on the proposed second building. In Oakland, Shorenstein Properties has stalled for six years on construction of 601 City Center.
Both developers have reportedly been in talks with those respective cities to get the rights to build housing instead, a surer bet with potential office rents not allowing for new construction to make financial sense in those areas.
But while San Francisco and Silicon Valley seem relatively safe because of some of the lowest vacancy rates in the country, a few developers in the Bay Area's secondary office markets are still bullish.
Developer Wilson Meany decided last fall to start construction on the first of five office buildings in San Mateo's massive Bay Meadows Station project, a former racetrack site. It still hasn't leased a tenant, but expects to ink a deal closer to an opening date.
"A truth about our market … is that tech tenants are also very much interested in making real estate decisions short term," said Chris Meany said last fall. "It's just the reality that our tenants in this market are moving faster than that. Doesn't matter if I like that or not. That's the reality."
OFFICE SPEC PROJECTS
The majority of office developments under construction without an anchor tenant are in San Francisco, followed by the Peninsula and then the East Bay. A few major renovations, such as Latham Square and Uptown Station, will land in Oakland.
The Exchange on 16th, 1800 Owens Street
City: San Francisco

Year built: 2016

Owner/developer: Kilroy

Square footage: 680,000

Status: Under Construction
85 Bluxome St.
City: San Francisco

Year built: 2015

Owner/developer: Bluxome Partners

Square footage: 56,845

Status: Under Construction
500 Pine St.
City: San Francisco

Year built: 2016

Owner/developer: Lincoln Property Company/Gemdale

Square footage: 55,000

Status: Under Construction
181 Fremont St.
City: San Francisco

Year built: 2016

Owner/developer: Jay Paul Co.

Square footage: 435,000

Status: Under Construction
350 Bush St.
City: San Francisco

Year built: 2017

Owner/developer: Lincoln Property Company/Gemdale

Square footage: 370,000
Status: Under Construction
Concar, 400 Concar Drive Bldg 1
City:San Mateo
Year built: 2016
Owner: Hines/Pearlmark/Goldman Sachs
Developer: Hines
Square footage: 95,812
Status: Under Construction
Concar, 450 Concar Drive Bldg 2
City: San Mateo

Year built: 2016

Owner: Hines/Pearlmark/Goldman Sachs
Developer: Hines

Square footage: 100,000

Status: Under Construction
135 Hamilton Ave.
City: Palo Alto
Year built: 2015
Owner: Keenan Land Co.
Developer: Devcon Construction
Square footage: 28,085
Status: Under Construction
Bay Meadows Station, 3050 Delaware St., Station 4
City:San Mateo
Year built: 2016
Owner: Stockbridge Real Estate Funds/Wilson Meany
Developer: Wilson Meany
Square footage: 210,000
Status: Under Construction
Uptown Station, 1955 Broadway
City: Oakland
Year built: 2016
Owner/developer: Lane Partners
Square footage: 381,622
Status: Under Renovation