Exclusive: Holy City, a 142-acre ghost town near Los Gatos, is sold to billionaire couple
---
The yellow shaded areas show the outlines of the parcels that were includ ed.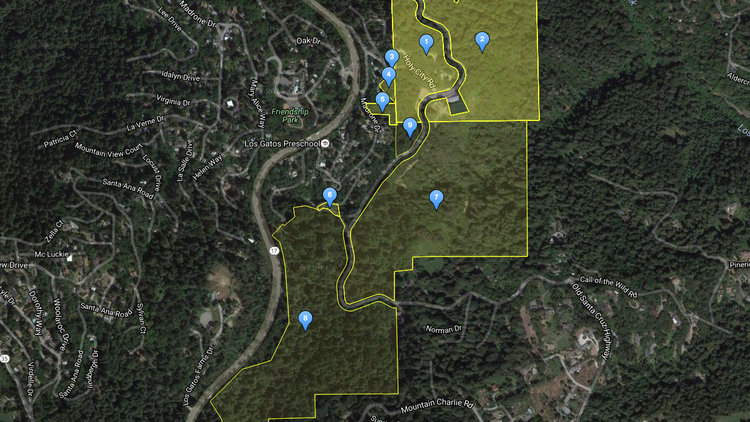 August 10, 2016
Bob and Trish Duggan are the proud new owners of a pretty spectacular 142-acre parcel in California near Los Gatos, and we can't wait to find out what they plan to do with it.
The Duggans are Scientology's richest couple, and our readers are very familiar with them. In January, we wrote about the Duggans receiving their latest trophy for their donations to the International Association of Scientologists. A new "status" had to be invented for them because they've given so much more than anyone else in church history. This time, they were dubbed "Diamond Invictus," and we estimated that it was for donating about $70 million — and that's not counting the millions more the couple has given for numerous Scientology building projects around the world.
But Bob and Trish can afford it. According to Forbes, Bob is worth $3.2 billion and is the 638th richest man in the world. He built that fortune largely on the spectacular stock market success of a cancer drug he helped bring to market.
And now, he's making news in California for buying a somewhat legendary tract of land that had been on the market for a decade. Ten years ago, the Holy City parcel was put up for sale at $10 million. But the Duggans got a steal, paying about $6 million for a great spread of land just off Highway 17, the road between Santa Cruz and Los Gatos.
It's land that has a storied history. In the 1920s, it was the site of a religious commune run by William E. Riker, a religious charlatan and white supremacist who fleeced his flock with the best of them.
"He bilked his people to fund his shangri-la," said one local who was interviewed by the San Francisco CBS station about the sale.
Hey, Scientology would feel right at home!
We can't help wondering if Duggan will end up carving out at least part of the parcel for a Scientology drug rehab, or a retreat for stashing away church wives, or maybe just a place for raising wayward boys.
Of course, the Duggans may just carve up Holy City for expensive homes and a golf course or something. But we'd love to hear your ideas for how David Miscavige and Scientology might benefit from taking over "Holy City."
Here's the CBS station's report on the sale.