百大雇主品牌 – 40 – USAA – Texas US
---
Top company by employee – 40 –  USAA – Texas US
23390 employees
www.usaa.com
Industry: Financial Services & Insurance – Auto Insurance
Ownership: Private
State: Texas
Rank: 40
Previous rank: 20
2011 revenue ($ millions): $19,036
What makes it so great?
This big insurer has one of the richest benefit programs around: an annual corporate performance bonus averaging 18% over the past three years, a 100% match of 401(k) contributions up to 8% of pay, and on site massages and physical therapy at discounted rates.
Headquarters:
San Antonio, TX
Website: www.usaa.com
1922
USAA is founded in San Antonio, Texas, when 25 Army officers come together and decide to insure each other's automobiles.
William Garrison elected first USAA president.
The first USAA employee, Harold Dunton, is hired as a general manager.
Maj. Walter Moore purchases an automobile insurance policy for $114.74 and becomes our first member.
1924
USAA prints its first credo.
Motto is "Service to the Services."
1928
USAA advertises 8,000 active members among 38,000 possible.
William Garrison
1929
The stock market crashes; Great Depression follows.
USAA ended the 1920s with a net profit of $144,000 before dividends.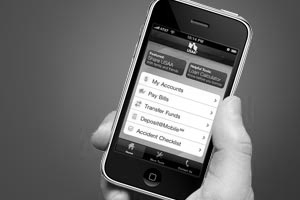 USAA Mobile App for the iPhone
2000
Robert G. Davis becomes CEO.
2001
USAA is named to Working Mother magazine's "100 Best Companies for Working Mothers."
LATINA Style Magazine named USAA one of the "50 Best Companies for Latinas to Work in the United States."
Phoenix, Ariz., office opens.
Began offering USAA Documents Online on usaa.com to save printing and paper costs.
Post Sept. 11, 2001
USAA is the only insurer invited to participate in the Department of Defense's Survivor Assistance Center near the Pentagon.
USAA deploys special member services teams to Lower Manhattan.
USAA provides special deployment assistance to members called to respond to the fight on terrorism.
2002
USAA wins J.D. Power & Associates' Chairman's Award.
2003
Computerworld, InformationWeek, and CIO honor USAA's information technology programs.
96% of active-duty officers are USAA members.
44% of enlisted personnel are USAA members.
USAA Federal Savings Bank home mortgage service is ranked No. 1 by J.D. Power and Associates.
Working Mother names USAA to its list of mother-friendly employers for sixth straight year.
USAA is on Fortune list of "America's Most Admired Companies."
Printed, online and telephone services are tailored to deployed members and families.
2007
BusinessWeek magazine names USAA its first Customer Service Champ.
USAA introduces Deposit@Home® remote deposit capability.
Lt. General, USA (Ret.) John Moellering named Chairman of the Board and Maj. General, USA (Ret.) Josue (Joe) Robles named CEO; Robert Davis retires.
2008
BusinessWeek magazine names USAA its No. 1 Customer Service Champ again.
USAA sponsors first prime-time TV special — America United in Support of our Troops.
USAA introduces online Car Buying Service.
Eligibility requirements are expanded to include:

Military retirees, regardless of when they retired.
Military personnel who were honorably discharged on or after Jan. 1, 1996.
Widows or widowers of military personnel killed in action while eligible.
After they join, spouses and children of the above may also be eligible for membership.

In a year when most financial services companies post record losses and the S&P 500 Index total return dropped by 37%, USAA earned $423 million in net income and generated positive investment income.
2009
USAA introduces USAA Deposit@Mobile®; the first mobile deposit capability for the iPhone®.
USAA is ranked No. 1 in MSN Money Customer Service Hall of Fame.
Begins offering face-to-face service at offices in Tampa and Colorado Springs.
Consolidated regional office locations — closing the Sacramento office and Norfolk policy service location.
Military Spouse magazine ranks USAA #1 on its 2009 list of America's "Most Military Spouse Friendly Employers."
USAA becomes the presenting sponsor for the Army-Navy Football Game.
USAA expands eligibility to all who are serving or have honorably served our nation in the U.S. military — and their families.
2010
USAA forges cooperative alliances with military organizations, including the VFW and American Legion.
USAA creates comprehensive tools for car buying (Auto Circle) and home buying (Home Circle).
USAA teams up with hundreds of The UPS Store locations to offer Easy Deposits check deposit service.
The USAA iPad app debuts, allowing members to manage finances and access advice.
USAA provides new face-to-face opportunities for members with Financial Centers in key locations.
USAA named one of Infoweek's Top 10 Most Innovative Companies.
Forrester Research ranks USAA as its top customer advocate.
USAA named one of the best places to work by FORTUNE magazine and the top place to work in IT by Computerworld magazine.
USAA agrees to purchase 25% of its power needs for San Antonio and Phoenix from renewable sources.
2011
Earned unprecedented growth of 9% in both new members and products, despite experiencing its worst catastrophe year ever and a shaky economy.
Became the Official Military Appreciation Sponsor of the National Football League.
Opened four new Financial Centers, bringing the total number to 11.
Launched a national TV campaign to promote our members sharing the legacy of USAA membership with their families.
Redesigned usaa.com to provide easier access for members to accounts, tools, products and services.
Introduced USAA® Money Manager, a personal budgeting tool for mobile devices.
FORTUNE includes USAA on its "100 Best Companies to Work For" list for the third year.
Forrester Research ranks USAA Bank highest among all brands from all industry categories in "The Customer Experience Index."